1. Can we customize?
Yes, you can! LollyTalk offers highly customizable solutions for your personalization needs. We have a wide range of readily made lollies (with various messages and graphics) you can select from and personalized the gifts via packaging and sticky-labels pasted on the packagings, or you can customize the lollies with your required words & message. To find out more, check out these case studies on how we helped our customers to customize their gifting solutions...


2. What are the charges like for customization of the lollies?
There are many ways you can customize your gifting solutions. For the prices to customize the lolly itself, check this out (do take note that the lead time given to us does affect the overall prices too)...

3. What kind of packagings are available after I customized the lollies?
LollyTalk offers a wide range of readily available packaings with personalization services such as sticky-labels printing. If you have certain unique requirements, you can always let us know. Given reasonable budget and timeline given, we are able to do the sourcing for you. these are some of the packagings you can check out...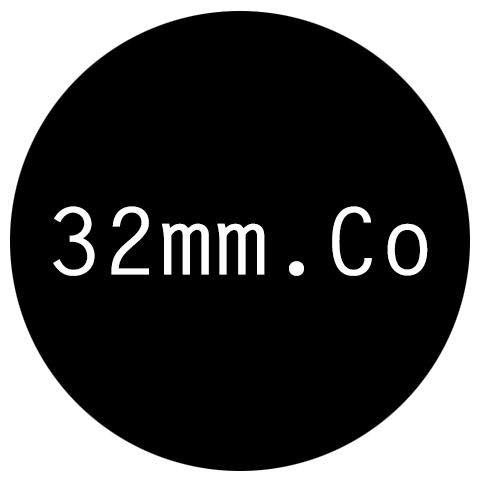 4. Where does LollyTalk originated from?
LollyTalk are trained by two Australian Masters Ross and Judy, who won numerous culinary awards in Australia including a Gold Medal for their Fruit Rock Mix among all the major rock candy makers (during the 2009 Royal Melbourne Fine Food Awards). Ross and Judy also won the title Grand Champion Rock Candy during that year among all the hard-boiled confectioners (including chocolate makers, nougat makers etc...and of course including all the rock candy makers!!!).
Royal Melbourne Fine Food Awards 2009
LollyTalk is the only authentic Aussie-style rock candy maker in Singapore making lolly using this award winning recipe from Ross and Judy. Others might try to look like LollyTalk, but they will never taste anything near to LollyTalk! 
Ross and Judy are the students of the original founder of Aussie-Style rock candy, they are both authentic second generation candy maker. And this makes the founders of LollyTalk the authentic third generation of candy makers.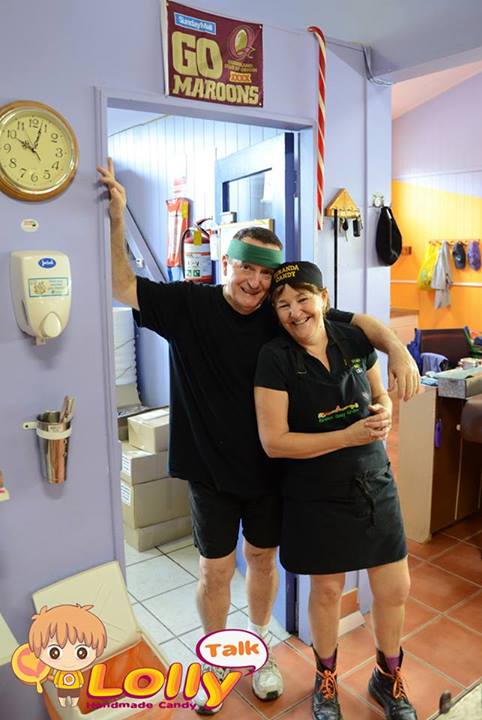 Ross and Judy in Australia
LollyTalk started back in 2012 operating from a commercial kitchen at Ubi, handling various corporate orders for numerous companies as well as crafting wedding favors for countless wedding couples. 

Due to the popular demand and encouragement from our fans, we decided to go into retail and opened our first flagship store at 68 Orchard Road, Plaza Singapura B2-20 with the grand opening on Australia Day, 26th January 2013 serving you almost 4 years at the flagship store!!! 
LollyTalk is proud to say we are a 100% Singapore Brand with an authentic 100% Aussie Heritage! During Mid 2016, we were the only handmade candy shop along Orchard Road too till the closing of our Orchard flagship store in early 2017, we were the only and also the last handmade candy store along Orchard Road (the prime shopping area in Singapore). The two Australian Masters Ross (in his 60's) and Judy (in her 50's), generously and without reserved, trained the founders of LollyTalk (Joy and Keow Yuen), who are the only two asian students out of the overall six students Ross and Judy ever trained.
With the increasing demand in the lollies handcrafted by LollyTalk, we have decided to move to a commercial kitchen to meet the demand so that our focus now is to make more happy lollies to meet demand instead of running a retail shop. LollyTalk currently makes our lollies from a full fledge commerical factory/kitchen located at Mandai, operating with a valid AVA (Agri-Food and Veterinary Authority of Singapore) license. LollyTalk also having various premium retailers carrying LollyTalk range of lollies, reselling them at strategic locations and major malls all over SIngapore.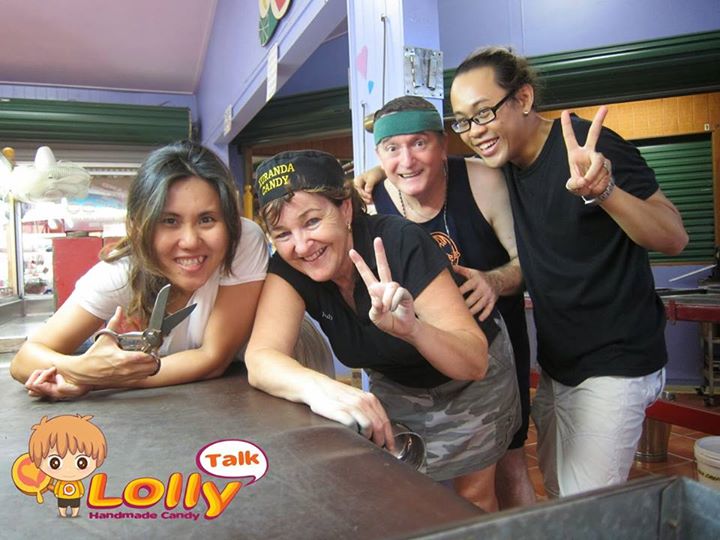 LollyTalk's founders (Joy and Keow Yuen) training in Australia with Ross and Judy
LollyTalk previous flagship store located at
68 Orchard Road, Plaza Singapura B2-20

5. What inspire LollyTalk on the design of the Fruit Rock Mix?
The design of LollyTalk

Fruit Rock Mix haven't really changes much since the founder of Aussie-style Rock Candy (known as Coffs Harbour Candy) started them. LollyTalk are trained by Ross and Judy, who both were trained by the original founder of Aussie-style rock candy! Over at LollyTalk, we are proud to say we are the authentic third generation of Aussie-style lolly maker! Even thou others might looks like ours, but lollies that looks close to ours doesn't means the taste is close to ours too. You really have to try a LollyTalk's lolly to know why so many people have chosen LollyTalk over the rest!
6. What makes LollyTalk special from other candy?
What makes LollyTalk different from other candy is YOU! Because you are the world's greastest fan we ever have! And you are the World's best judge on what you choose to eat! We learned from the best; Ross and Judy been awarded as the BEST rock candy maker and BEST hard boil confectioners in Australia by Royal Melbourne Fine Food Awards during 2009. And our lollies are made with their traditional recipe. But all these are nothing if it doesn't taste good to YOU!!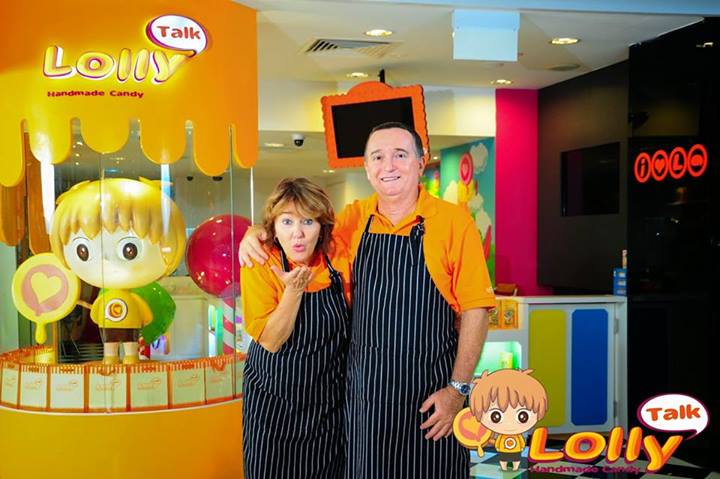 The legendary Lolly Masters Ross and Judy who won multiple food awards in Australia

We also have a different range of lolly to cater to different demands. Since April 2013, we launched our

All-Time Classic series (f.k.a. ATC/Acquired Taste Collection) which uses natural ingredients. We have unique taste that clearly sets us apart. We are constantly working on how we taste and most importantly, we listens to your needs and wants.
The original

All Time Classic Series (f.k.a. ATC/Acquired Taste Collection) by LollyTalk. Clearly sets the new standard on how rock candy should taste like!
LollyTalk believes in a complete lolly experience. We have a theme song "Lolly Love", composed by a local composer Tristan Ong, sang by an Singapore Independent Artist Zuo En. LollyTalk branding uses a cheerful, friendly and bright orange giving you an energetic and positive feel of the products. LollyTalk is one of the few retailer that have its own mascot (with an interesting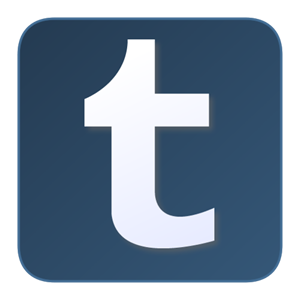 fantasy background story) , not to mention one of the few retailers that have our own theme song.



Our theme song "Lolly Love"

We believes in an overall feast and a complete lolly experience... from what you see, what you hear, what you feel and what you eat!
7. Are the lollies halal?
All LollyTalk lollies are made using Halal certified ingredients and all our facilities doesn't make any food that are non-halal. No alcohol, no liquor and no gelatine. We are also working hard towards getting the halal certification for our brand in coming days. LollyTalk lollies are widely used as giveaways for Malay Community Organizations (Such as Mendaki) as well as for fund raising by various Muslim Charitable Organizations too.
Ace PSLE Examinations (APEX) is a non-profit voluntary organisation which aims to prepare madrasah students in Singapore in preparation for their final-year examinations
Mendaki purchased the Happy Teachers' Day Lolly Mix in bulk
for all their teachers and staff working at SENSE.


National Heritage Borad commissioned LollyTalk
to customize the lollies for Malay Heritage Centre.
Singapore Malay Heritage Centre (under Singpore Heritage Board) is also one of the official resellers of LollyTalk Handmade Candy.

8. Are the lollies Vegetarian friendly? Does it contains animal parts or eggs? Does it contain Gelatin?
We don't use animal parts or eggs, our lollies are all vegetarian friendly.
9. What are the ingredients you used to make your lollies?
We uses mainly refined sugar, glucose, citric acid as well as natural extracts, natural colourings, permitted food colourings, and permitted food flavourings. All our ingredients are halal certified and vegetarian friendly.
10. What are the ingredients you DO NOT USED to make your lollies
Our lollies doesn't contains nuts and our facilities doesn't make nuts products (no traces of nuts on our products). Our product doesn't contain milk products. LollyTalk lollies doesn't contain high fructose corn syrup. No alcohol, no liquor and no gelatine.

11. Are your lollies natural?
LollyTalk select the best ingredients we can based on a lot of factors. It is our desire to make happy lolly and we are conscious of what we put into our lollies. We have certain lollies that uses natural extract as well as natural colourings, although we didn't explicily state. If for any reason you have that requirements, you can always ask our friendly staff.
LollyTalk is constantly evaluating market demands and we do hear you... But to create a TRUELY fully natural lolly is not that feasible at this stage since we do add in citric acid which is an edible food flavorings that gives you that sour tangy taste (used in lots of food products too), however, citric acid is not a natural products which a lot of customers overlook when they are choosing their lollies. Based on some overseas food regulation, some candies still are allowed to state these as fully natural with the inclusion of such ingredients thou. At LollyTalk, we think beyond the marketing gimmicks of such products.
We also have a self imposed limitation of not using animal/insect derived colourings, which is of course natural, but it will not be vegetarian friendly.
LollyTalk is also consciously excluding ingredients like high frutose corn syrup which is the controversy ingredients in lots of report.
LollyTalk believes lolly is a happy treats. We believe in bringing joy to people when they look at the vibrant lollies, and feel blessed when they taste the yummy treat. The process of being happy is already a healthy act. No matter how natural things are, if you are allergy to certain elements, do avoid (just like people allergy to nuts and seafood which are natural too). Even if you are not allergy to anything, practice caution and self restraint by eating your food in moderation.
If fully natural is something you going after, you can try our Ding Ding Candy


And we also have our All-Time Classic Honey Lemon handcrafted using honey, lemon extract & natural colours.

In short... Over at LollyTalk, we don't put in things we don't eat ourselves. And to satisfy your inner kid is more important than having a not-so-honest tagline.
Among some of our corporate clients, we have Raffles Medical Group having our lollies for their Dinner and Dance door gifts, Tan Tock Seng Hospital getting lollies for their nurses during Nurses' Day, National Univeristy Hospital getting lollies for their nurses and doctors, Jurong Health Services getting lollies and lollypops for their hospital Ng Teng Fong's opening, as well as various private clinics and leading pharmaceutical companies chosen LollyTalk as their gifts for their customers who are doctors and medical professionals. We also served the Dental division of National Healthcare Group Polyclinics.
12. What are the shelf life of the lollies?
Our lollies are handcrafted with good quality sugar. Sugar itself is a NATURAL preservatives hence it can be kept for many years. It will not be a health hazard to consume as long as it isn't contaminated.
However, if you don't store them cool and dry, it will stick together easily and affect the texture on how nice it will taste, but it will be still safe to consume even after years.
How well it taste depends on how good your storage condition. Keep it away from heat and moisture.
Usu we advise shelf life to be a half a year, but it really depends on how good you keep it too.
Even thou fridge is a cool and dry environment. Avoid putting it in fridge unless you plan to "eat the lollies from the fridge"; meaning that you don't put it out anymore (because of the differences in temperature out of the fridge, condensation occurs very fast and droplets of water will very fast form and affect the lollies).
13. Where can we find LollyTalk???
LollyTalk is everywhere... because LollyTalk is always in your heart.
Previously LollyTalk (Singapore) flagship retail outlet was at 68 Orchard Road, Plaza Singapura B2-20 Singapore 238839 (Dhoby Gaunt MRT Exit D). The grand opening was on 26th Jan 2013 (Australia Day)
Currently LollyTalk operates from a commercial kitchen located in Mandai in order to meet the demand of our handmade lollies islandwide via our resellers as well as to supply for various corporate clients. LollyTalk currently makes our lollies from a full fledge commerical factory/kitchen located at Mandai, operating with a valid AVA (Agri-Food and Veterinary Authority of Singapore ) license. LollyTalk also having various premium retailers carrying LollyTalk range of lollies, reselling them at strategic locations and major malls all over SIngapore.

Video highlight of the grand opening of the previous flagship store at Orchard Road.

There are various resellers and distribution points where you can easily get LollyTalk (do check with us since these do change over time). You can also easily get it in Singapore Changi Airport in all terminals (after and before check-in) via our resellers too. However, do ensure you see our brand LollyTalk on the products before making the purchase as LollyTalk only sells under our own brand and don't believe any of those that tells you otherwise. Beware of imitation products.
Since the start of LollyTalk flagship retail outlet on Jan 2013, we are constantly in discussion with interested party to franchise and operate under our guidance and brand. Being a responsible candy maker that carries the Aussie Tradition and 100% Singapore Brand, we are cautious in our selection of capable people to franchise our model. For those that are keen to explore on franchising, you can always drop us an email franchising@lollytalk.com for more information

With all the support from the World's Greatest Fans like you, we believe in the very near future, you will be seeing more LollyTalk being sold in malls in a neighbourhood near you.